Residential 100 Solids Epoxy Garage Floor Coating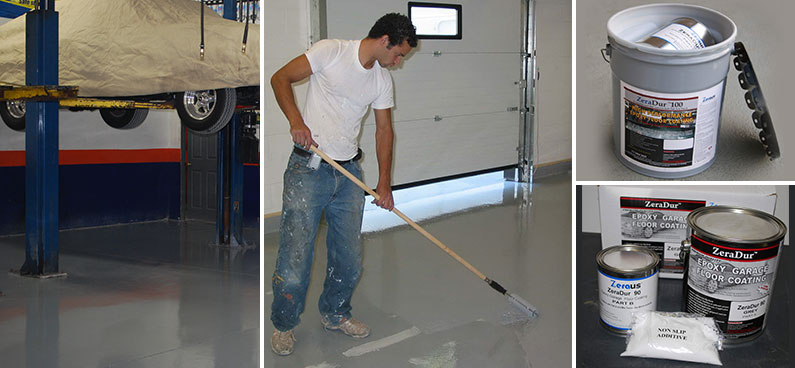 Imagine a clean, shiny garage floor that looks great and lasts for years!
ZeraDur™ 99SC (UR)
100% Solids Epoxy Floor Coating with UV-Resilient


We provide homeowners, shop owners and facility managers the ability to apply a commercial grade epoxy floor coating without the cost of a professional installation.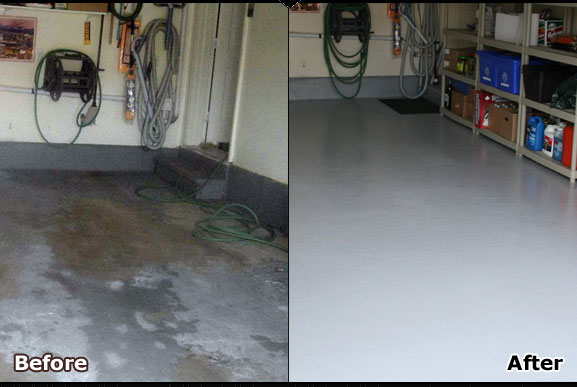 Do It Yourself & Save Money!
ZeraDur™ 99SC Garage Floor Kit:
ZeraDur™ 99SC is a non-slip attractive, 100% solid epoxy floor coating, low-odor two-component epoxy garage floor coating. Available in 2 standard colours, it is designed so that an average homeowner can install it in just two days (two-coat application).
Previously available only to high-end industrial contractors, we have adapted the same technology to the residential "Do it yourself" market. The non-slip additive is supplied in the kit. Just mix and apply it like paint using a roller and a paint tray. The result is outstanding!
ZeraDur is a self-priming floor coating. However, for optimal performance use ZeraPrime 95DS. For flake systems, use ZeraDur™ 95SC Clear (UR) which is a UV-resilient clear epoxy coating with enhanced color stability.
Zeraus now carries clear Polyaspartic coatings, contact us for more details.
ZeraDur™ generates a showroom quality highly durable epoxy floor that's installed on new, old or totally damaged floors to bring them back to life!
1. Durability:
ZeraDur™ has an excellent durability when the product is applied as per instructions. It passed the test of time and its' track record of numerous successful installations over the years is testimony to the product superiority.
It is tolerant to temperature variations and formulated to withstand abuse and impact much more so than thinner materials (paints, sealers or enamels) or other epoxies. It will remain tough through all seasons and will not chip, crack, or peel.
With proper maintenance you will only need to apply ZeraDur™ once during the entire lifetime of your garage floor.
2. Ease of Installation:
ZeraDur™ is the simplest and easiest non-slip epoxy coating on the market today to apply. It is created for "do it yourself" applications. The non-slip component is supplied in the kit. You only have to mix it with the liquid coating then apply it as a paint.
This way, you do not have to sprinkle (broadcast) the silica aggregate onto the wet coating. This technique allows for an easier, faster application and a more uniform finish.
3. Excellent Adhesion:
Epoxy coatings have outstanding adhesion to concrete like no other resins. Our ZeraDur™ epoxy flooring is no exception. Our epoxy coating is stronger than the concrete itself, thus generating a bond between the concrete surface and the epoxy coating that lasts a lifetime.
4. Resistance to Hot Tire Pickup:
ZeraDur™ is not susceptible to hot tire lifting and peeling associated with typical garage paints.
5. Superior Resistance to Petroleum & Chemicals:
ZeraDur™ is superior to other water-borne epoxy products on the market in terms of thickness, anti-slip properties, uniformity, resistance to petroleum products and chemicals that commonly come into contact with garage floors. ZeraDur™ is completely tolerant to gasoline, anti-freeze, motor oil, salts, paint thinners and cleaners.
6. Safe, Environmentally Friendly & Low Odour:
The high performance ZeraDur™ epoxy flooring has low odour and contains no xylene, toxic fumes or "hazard air pollutant solvents" normally associated with other solvent-based epoxies. ZeraDur™ is safe and has a pleasant citric odour during application.
7. Ease of Cleaning & Maintenance:
ZeraDur™ is easy to maintain by using warm water and detergents. Caustic or other heavy-duty industrial cleaners do not affect it, and oil does not stain it. The product is dust-proof
Alternative Garage Flooring Systems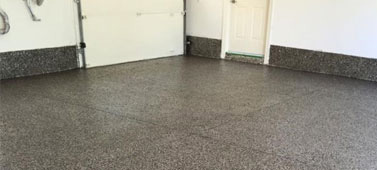 Flake Flooring System
ZeraTex FL is a multi-layer decorative flooring system consisting of an epoxy ...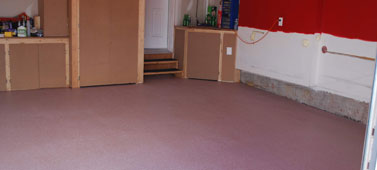 Multi-Colored Textured Broadcast Quartz
ZeraStone is a seamless broadcast and sealed epoxy flooring system that is ...